Head-Up Display in Cadillac Models | Mission, TX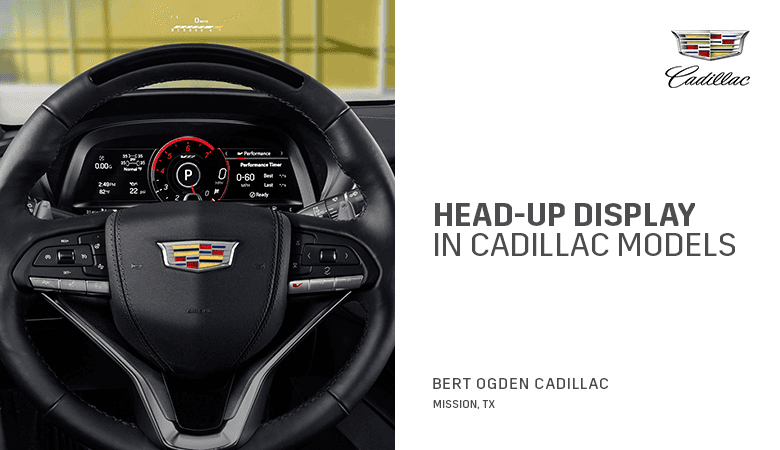 Many Cadillac models come equipped with the available Head-Up Display; all of these are available at Bert Ogden Cadillac in Mission, Texas. This optional feature is a great add-on because it allows you to access important information while keeping your eyes on the road.
Cadillac Models That Offer a Head-Up Display
Right now on our lot, you can get the following vehicles with a Head-Up Display: Cadillac XTS, Cadillac Escalade, and Cadillac XT6. But, coming soon is a brand new kind of Head-Up Display (sometimes simply called HUD).
When the 2023 Cadillac LYRIQ arrives at Bert Ogden Cadillac, it will be available with an augmented reality Head-Up Display.
How Head-Up Displays Work in Cadillac Models
Current-generation HUDs in Cadillac models are very simple in terms of using them. Vital information that you will likely need while driving is projected onto the windshield in your field of vision. This means you do not need to deflect your eyes from the road to scan the dashboard and infotainment system to find the information you need.
The typical Head-Up Display includes the following:
Performance data: This view will show you the speedometer rating, the gear shift indicator, the RMPs, and the transmission position.
Audio and phone data: When you are on this view, you will see info about incoming calls, your current radio station, or the song that is playing from your connected device.
Speed data: Like the performance view, the speed view lets you see the speedometer reading. Just as helpful, it shows the speed limit (if it is known). If the vehicle is also equipped with Adaptive Cruise Control, the Vehicle Ahead Indicator, and Lane Departure Warning, you can also see those details here.
Navigation data: When on this view, you can see everything from the aforementioned speed view, plus Turn-by-Turn Navigation and a compass.
---
Visit Bert Ogden Cadillac in Mission, Texas, to learn more about the Head-Up Display and to get a closer look at the Cadillac models equipped with the innovative technology.