2023 Cadillac LYRIQ | Mission, TX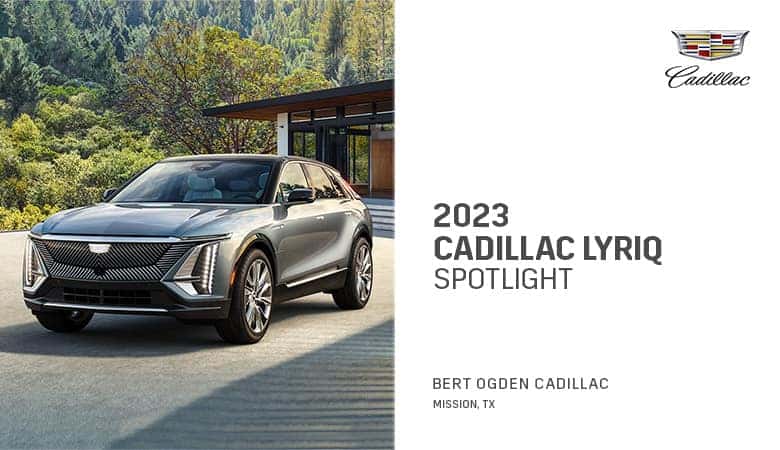 The future is looking bright — and that is largely because it's electric. Cadillac is on a path toward an all-electric future, and that all starts with the production of the 2023 Cadillac LYRIQ. Because testing of the inaugural all-electric SUV is ahead of schedule, Cadillac has promised that ordering will open for the LYRIQ in September of 2021, for delivery as soon as the first half of 2022. That means in a year or less, you could be picking up your very own 2023 Cadillac LYRIQ SUV at Bert Ogden Cadillac in Mission, Texas.
"Thanks to the modular and highly flexible Ultium Platform that powers LYRIQ, along with advanced virtual development tools, Cadillac has been able to accelerate development and put more real-world miles on prototypes sooner than expected," explained Jamie Brewer, LYRIQ chief engineer. "It's exciting to see our objectives realized on the road — and it means we are on track to bring this pioneering electric luxury vehicle to customers nine months earlier than originally planned."
The Electric Powerhouse
The defining trait of the 2023 Cadillac LYRIQ is its 12-module, 100 kWh battery pack, partnered with the rear-wheel-drive Ultium Platform. With this solid architecture, the Cadillac LYRIQ will boast a range (estimated by Cadillac, not yet verified by the EPA) of a whopping 300+ miles — and it'll crank out roughly 340 horsepower and 440 Nm of torque.1
Charging the LYRIQ
You can get up to 76 miles of range from the Cadillac LYRIQ in as little as 10 minutes thanks to high-speed DC charging.2 You'll just need to find a public charging station offering 190 kW. You can also tackle fast-charging at home with a segment-best 19.2 kW charging module that gets the all-electric SUV up to 52 miles of range in just an hour.3
Other Features
In addition, the 2023 Cadillac LYRIQ will boast available Super Cruise™ technology, ride on standard 20-inch six-spoke alloy wheels, and come with technologies like the Digital Key, slim-line LED headlamps that do their own choreographed lighting sequence, AKG Studio 19-speaker audio system, and Active Noise Cancellation.
---
Contact Bert Ogden Cadillac in Mission, Texas, to learn more about the 2023 Cadillac LYRIQ.

1Based on GM testing. EPA estimates not yet available. Actual range will vary based on several factors, including temperature, terrain, battery age, and vehicle loading, use, and maintenance.

2Requires professionally installed 19.2 kW AC / 100A dedicated charge station.

3Actual charge times will vary based on battery condition, output of charger, vehicle settings, and outside temperature.