What to Include in Your Emergency Car Kit | Mission, TX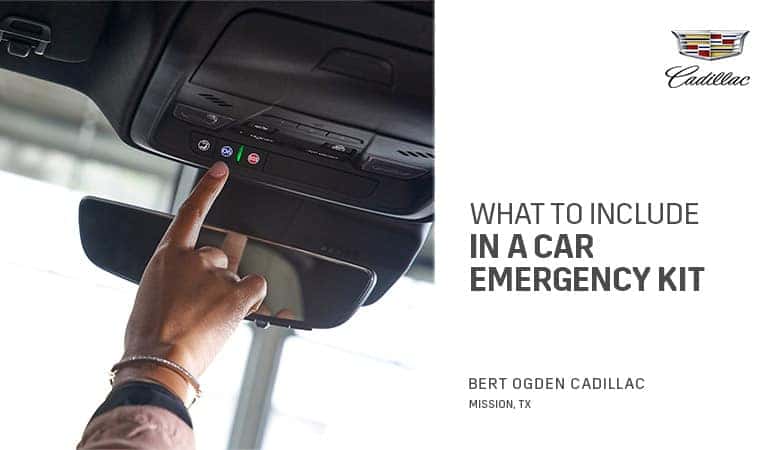 Emergencies can strike at any moment. Just take the COVID-19 pandemic, for instance. In response, the Bert Ogden Cadillac dealership in Mission, Texas, has implemented online ordering with at-home delivery (Express Checkout), contactless vehicle maintenance, and regular sanitation in our dealership.
But, what happens when emergency strikes, and you're in your car in the middle of nowhere? That's why every vehicle should be stocked with an emergency car kit. Here's what to include in yours:
• Bottled water.
• Warm layers, like blankets, coats, hats, and gloves.
• Jumper cables and a spare tire.
• Nonperishable food items, like mixed nuts and protein bars.
• Flares and/or reflective triangles.
• An ice scraper.
• A flashlight with working battery.
• A charged power bank to keep phones charged.
• A collapsible shovel.
• A multitool and/or a small toolkit.
• Duct tape.
• A battery-powered radio.
• A first-aid kit.
• A fire extinguisher.
If you are traveling with children, pets, or someone with specific medical needs, be sure to have what they need in supply: formula, diapers, water bowl, dog/cat food, medicine, etc.
To help protect yourself from the elements, also pack sunscreen, rain ponchos, and insect repellant. If you have to use your hands to work on your vehicle, it is a good idea to have disinfecting wipes.
---
Is it time for a maintenance check? Trust your vehicle to the service experts at Bert Ogden Cadillac in Mission, Texas.