Safety Tips for Driving in the Rain | Mission, TX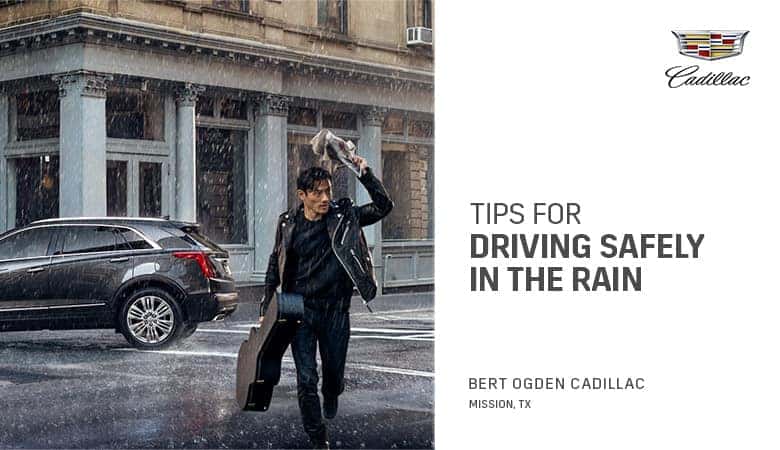 Driving in spring weather here in Mission, Texas, means being ready for an unexpected thunderstorm at any moment. Driving in the rain is never fun and can be dangerous, but you can help minimize your risk by adhering to a few rules of thumb:
Go slow and keep your distance.
When the rain starts, adjust your speed accordingly. We recommend always following the posted speed limit, but it's even more important during a rainstorm. You should also increase stopping distance between you and the vehicle ahead of you so that you give yourself ample room and time to brake.
Turn on your headlights.
Seeing ahead of you in the rain is only half of it. By turning on your headlights in the rain, it makes you more visible to traffic in front of and behind you.
Know your tires.
Regular tire maintenance is important for several reasons — one of which is safe driving. If your tread is so worn that your tires have trouble gripping the road, it's time for new tires. Replace them as soon as possible — and do not drive on bald tires in the rain. You'll need to wait until you have new tires before venturing out.
Keep cruise control off.
Especially in older vehicles, you should not rely on your vehicle's cruise control system when it is raining — or even after it rains and the road is still slick.
In response to COVID-19.
Driving in bad weather exposes you to safety risks, as does doing most things these days. That is why Bert Ogden Cadillac has worked hard to help ensure your health and safety during the COVID-19 pandemic with options for ordering your vehicle from home and arranging for at-home delivery (called Express Checkout), contactless vehicle maintenance, and strict CDC guideline adherence at our dealership, including thorough sanitation of all vehicles and high-traffic areas.
---
Make sure your car is ready to take on every season with a maintenance check at Bert Ogden Cadillac in Mission, Texas.