2021 Cadillac Escalade: Luxury Car of the Year | Mission, TX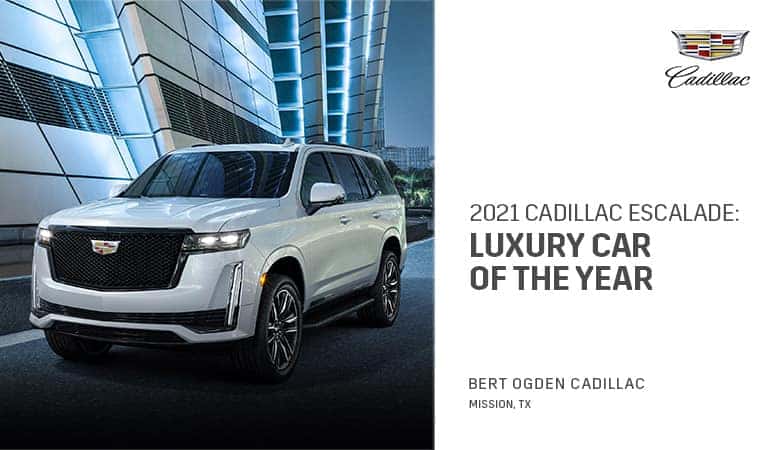 The Cadillac Escalade has long been synonymous with luxury. Celebrities, athletes, and politicians have found themselves behind the wheel of a sophisticated Cadillac Escalade. But Cadillac Escalades are not just for the rich and famous. We offer the luxurious large SUV right here at Bert Ogden Cadillac in Mission, Texas, at a price everyone will appreciate. We love the 2021 Cadillac Escalade, but don't just take our word for it: Cars.com recently named the 2021 Escalade its Luxury Car of the Year.
There was a lot that Cars.com found appealing regarding the new Escalade, but of special note is the 38-inch display screen — a massive screen that is unprecedented in the automotive industry. Cars.com editors appreciate that the touch screen is "lightning quick, super-crisp and clear in its colorful displays, and [capable of] a level of re-configurability and high-tech geek-lust that kept us endlessly entertained."
For 2021, the Cadillac Escalade underwent a big redesign, which included a refined interior with more sophisticated wood, softer leather, and more standard features. Cars.com editors appreciated this luxurious interior as much they loved the model's range of engines, including the optional turbo-diesel and the 420-horsepower 6.2-liter V8.
The interior is more approachable from a comfort and convenience level, according to Cars.com. That is due to the redesigned second-row seat mechanisms that make third-row entry and exit much easier.
Are you interested in the 2021 Cadillac Escalade, Cars.com's Luxury Car of the Year? You can visit us for a test drive today, or order yours entirely online using Express Checkout with an at-home delivery option, our safe response to the COVID-19 pandemic. We also offer virtual test drives.
---
Contact Bert Ogden Cadillac in Mission, Texas, to learn more about the 2021 Cadillac Escalade.